Clabane Organics BPO Acne Control Cream
Regular price

Sale price

Ush 80,000
Clabane Organics BPO Acne Control Cream (with Micronized Benzoyl Peroxide 2.5%) is a paraben-free, harsh chemical-free formula that is ideal for all skin types (Including oily skin). It also contains Tea Tree, Honeysuckle Flower Extract, Monnier's snow parsley, Green Tea Extract, Purslane Extract, Bitter Orange Flower.
The cream helps clear acne, reduce inflammation of pimples, reduce dark spots and prevent breakouts. It also helps to exfoliate and unblock pores. It contains micronized benzoyl peroxide, which penetrates deep to kill acne-causing bacteria and is recommended by doctors.
Instructions/How to Use this Product
Ingredients

Aqua, Retinyl Palmitate, Tea Tree, Benzoyl Peroxide, Lonicera Japonica (Honeysuckle) Flower Extract, Lonicera Japonica (Honeysuckle) Leaf Extract,
Cnidium Monnieri Extract, Green Tea Extract, Portulaca Oleracea Extract, Citrus Aurantium Amara (Bitter Orange) Flower, Glyceryl Stearate, Dimethicone, Stearic Acid, Hyaluronic Acid, Carbomer,
Phenoxyethanol.
Shipping Info

Note: Because shipping costs vary from location to location, our personnel will reach out to you to discuss your purchases' shipping costs & arrangement.
Share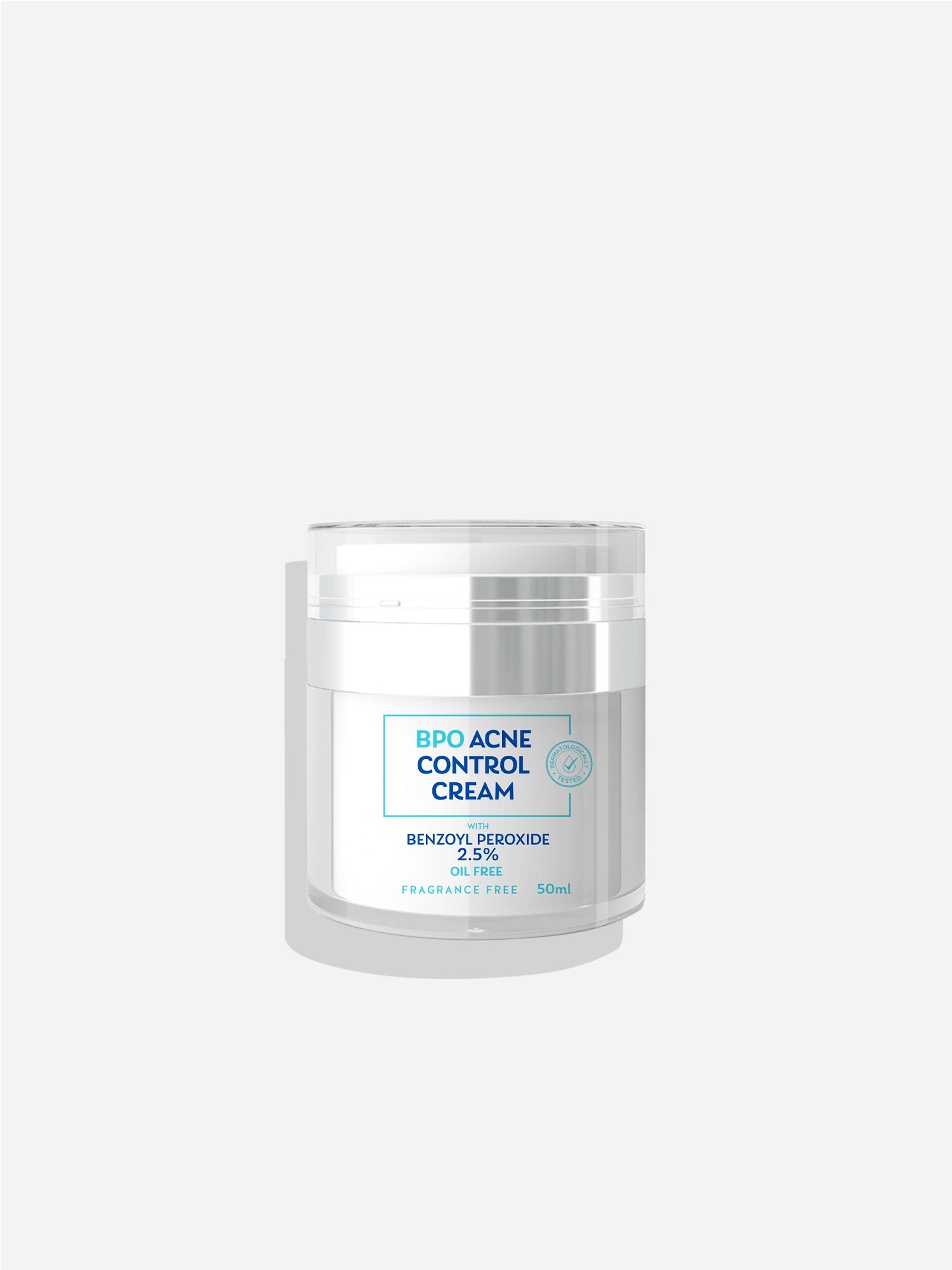 PRODUCT REVIEW (5 PRODUCTS)
I am currently using five products. Acne control cream, sunscreen moisturizing cream (yellow packaging), a transparent cleansing bar, a pigment correcting serum (orange packaging), and gentle foaming mousse cleanser (white and green packaging). Using the first 3 products in the morning and the last 2 at night. Week 1 (started 12th August, 2023) to week 4 of product use was good and the skin appeared clearer, moisturized and glowing. However in week 5 of product use i noticed an acne breakout (description; red, big, painful) around the cheek area, forehead, around my eyebrows, and next to my nose. It started out with a few which have been gradually increasing but on 27th September, I reintroduced (it had been out of stock for a while) "shea moisture African black soap" a product i have used before (face and body) and it helped given i have eczema prone skin. It appears to be helping with the acne by drying it out gradually and it is not so painful anymore. Overall the products are good and have not been harsh to my skin other than the painful acne purge, they are easy to use, and the quantity is good. I intend to continue using them along with the black soap and I believe I will have a happy and healthy skin in no time.
Answering questions about Clabane Organics BPO Acne Control Cream
Ingredient Spotlight
Benzoyl peroxide
What you get, when you purchase Clabane
Nature meets Science

We infer from Scientific Research and Data to develop products for you.

Dermatologist Developed

Product is developed by qualified and experienced Dermatologists

Natural Ingredients

Contains premium natural ingredients sourced from all over the world.

Developed for African Skin

Product is developed specifically for Sensitive African Skin.

Fragrance & Paraben Free

Product is gentle on skin and free from harmful perfumed chemicals

Reliable Customer Service

Every product comes with a resilient and unbeatable support experience thats adaptive to your unique needs.

SGS Certification

This product has passed the quality tests & approval of the SGS Regulatory Compliance & Advisory body & is viable world-wide.
Express yourself with Clabane #IG